Housing your chickens is probably going to be the most expensive and arguably the most important part of caring for them.
You need somewhere large enough, weatherproof, predator proof, warm and with the right amenities for your chickens to live sutiably.
Most houses you can buy these days come with roosts or nest boxes installed but it's always worth checking because this is essential.
You can find big elaborate houses to keep your chickens in but a smaller triangle that you can move around your garden is also suitable.
One thing that people always ask is "I want to leave my chickens to run in the garden but I'm not home until late and I'm worried a fox will eat them , what do I do?" Well there's a simple answer, it's an automatic chicken door, your birds will instinctively head in when it gets dark and the machine will close the door when you're not around, ensuring your birds safety, it's a brilliant invention that has never failed me!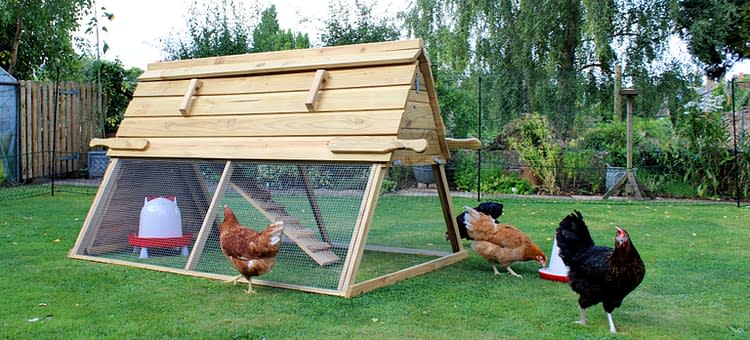 Requirements
What I usually recommend is about two to three square feet per chicken but that includes the run area as the birds will happily roost closely together at night.
The sleeping area of your chickens should have a nice layer of straw for the chickens to sit comfortably, sawdust is okay but can be irritable for your chickens eyes and nostrils so we prefer to use straw.
Your chicken house should be painted to preserve the wood (we highly recommend doing this if it isn't done already!), ventilation holes that can be adjusted and perches or nest boxes for your birds to rest and lay their eggs.
The run needs to be secure and give some shade. You could just use your back garden as a run if you're confident they won't escape and there won't be any predators that could snatch them while you're not looking. If your coop doesn't come with a run then this large pen should be perfect for all our fellow back garden chicken owners!
How much are your chickens worth and what can you sell your eggs for? Find out here with our handy guide!
What are the best options?
This could be down to personal style choices but if you want something big and nice looking I couldn't recommend this excellent design enough! It has a large run attached and has everything you could want from a chicken coop without looking too gaudy and without breaking the bank.
Looking for something smaller for a handful of smaller chickens? This low to the ground coop is perfect for under £80 and will fit in just about anyone's back garden.
For a more aesthetically pleasing range of coops, FeelGoodUK have produced these beauties for under £100 and they are actually a really nice size with a little run attached!
If you really wanted to go big and extravagant and keep your chickens safe while they wander "semi-freely" then this massive walk-in enclosure could be just what your looking for. Not everyone's garden is safe, think of cats too as I've personally lost a couple to a neighbours cat.
Not made your mind up about chickens in your back garden yet? Check out our article about the pros and cons here!
Can I DIY it?
While there are many cheap options for coops out there, some of you out there would rather DIY it and while you definitely can do it here are some things to consider!
For your mesh wire we recommend using something like this as it is much more sturdy and unlikely to break and if the mesh is on the ground, make sure to bury it up to 20cm into the ground, foxes can be persistent.
As mentioned above please consider painting it in a preserve like this one as the wood will not last long with chicken faeces and everything they will do to it, you'll end up having to replace it sooner rather than later!
We also think these perches are perfect for those who don't know how to go about making one, however a large, sturdy stick or two can work well!
Want to get the most out of your chickens? Read our article about optimisation here!